The Guide to Raised Access Flooring
For years, building owners, engineers, and architects have struggled to reduce both first and operational costs of buildings.

The need to reduce costs while being competitive in the non-residential building construction marketplace is significant.
Some of the major challenges facing architects, engineers, and designers:
Strong economic pressure to reduce construction/build time
New buildings depend on space maximization for profitability
Poor air quality and thermal comfort reduces productivity of occupants and negatively impacts their health
Increasing competition for attracting and retaining tenants who need space flexibility and access to building services (e.g. wiring & cabling, infrastructure growth, etc)
Increasing economic incentives to gain 'green building' certification
Since their introduction thirty years ago, raised access floors have become a critical way to help building owners achieve these goals.
Currently, Europe leads the way with approximately 14,760 square kilometers of this type of flooring, and the adoption rate is expected to grow at a CAGR of 3.9% by 2025.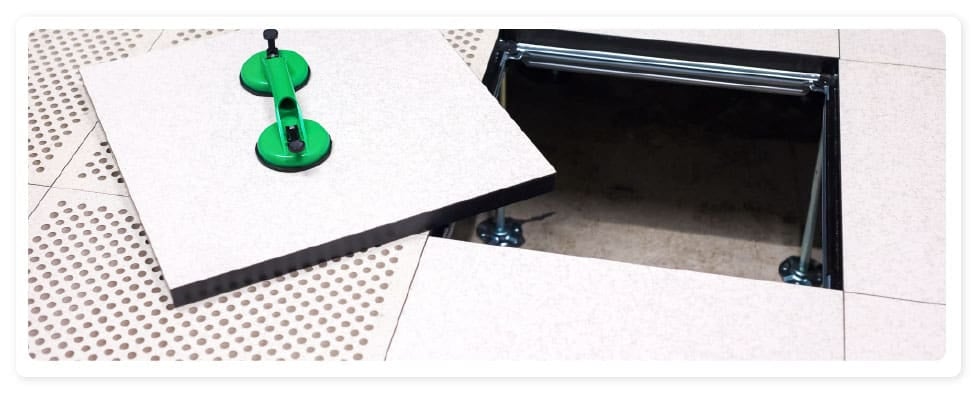 What is Raised Access Flooring?
Raised access flooring uses modular floor panels which are suspended over the actual floor by a series of supports. This results in an empty space between the raised floor panels, typically called a plenum, which can be used to route building services such as plumbing, wiring, and HVAC instead of above a suspended ceiling.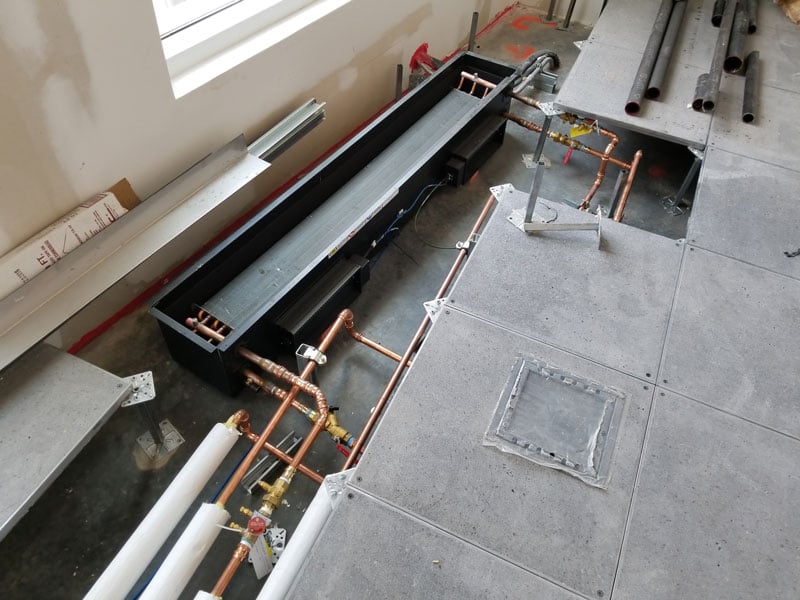 The floor panels are modular in nature, and can consist of either floor material itself (such wood, tiles, etc) or specialized units such as air diffusers, electrical or telecommunications terminals, etc. This allows a high degree of layout flexibility since the floor can easily be configured to add power, HVAC, and computing interfaces whenever needed.
Routing services through the plenum is advantageous for several reasons.
It allows for much easier and faster access to a building's infrastructure so that repairs and maintenance can be done without for working at heights on scaffolding or ladders.
It also provides a shorter routing for wiring, ductwork, and pipes, reducing the cost of these materials. And underfloor air distribution offers lower operating costs while improving air quality.

Raised Access Floor Types
While they became a popular choice for industrial and commercial buildings, raised access floors were originally a hard sell for architects when designing office spaces. The standard floor height brought with it a correspondingly reduced room volume and so wasn't an ideal solution.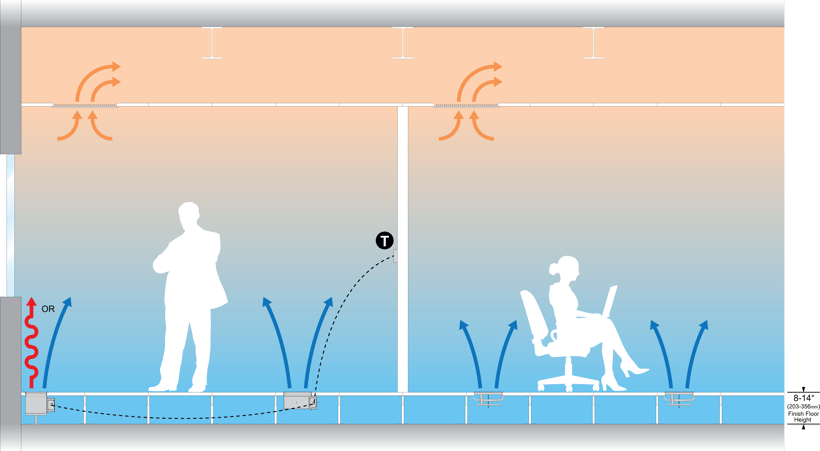 This is no longer the case.
The introduction of varying height profiles made raised flooring a much more attractive solution for all types of buildings. Recognizing that not all spaces are the same, raised access floor today come in a variety of heights, with the two most common variants being full-height and low-profile raised floors.
Ultimately, design and usage functions along with minimum floor heights to accommodate building services will determine the choice. Different building services have minimum finished floor height (FFH) requirements:
| | |
| --- | --- |
| Service | Nominal FFH |
| Routing for electrical wires and telecommunications cables | 3-5" |
| Underfloor air distribution (UFAD) via pressurized plenum (small area) | 8" |
| Underfloor air distribution (UFAD) via pressurized plenum (larger area) | 12" |
| Horizontal wire management | 12" |
Full-Height Access Floors
Full-height access floors feature floor heights ranging from six to 24 inches, and subsequently provide the greatest volume of plenum. They are an ideal option for new builds, since the the interior volumes and floor levels have to be coordinated to integrate fully with the overall building design.
The larger plenum space is needed to accommodate all required piping, wiring and pressurized airflow delivery components of an underfloor air distribution (UFAD) HVAC system along with the services infrastructure necessary to support a large, heavily-occupied building or the cooling requirements of a data center. Taller floor heights are often selected for improved accessibility and serviceability of under floor components.
Low Profile Raised Floor
Low-Profile raised floor systems are ideally suited for retrofits and/or where a building may have floor-to-ceiling height restrictions which can't realistically support a full-height installation.
The support pedestals usually range from two and a half to five inches in height, although the standard width of the floor panels further reduces the available plenum volume. Despite these obstacles, a low-profile raised access floor system can still be an excellent choice to handle the routing of wires and cabling while providing layout flexibility.
Raised Floor Panels
Floor panels are modular in nature. They generally come in standard 2'x2' sizes with an average thickness of 1.5 inches. The panels are manufactured with customized flooring finishes laid over a steel exterior surrounding either a wood or cement core.
Some low-profile panels are available with hollow steel or polycarbonate cores. Their thinner width makes these types an ideal solution for low-profile floors, although they won't be able to bear the same weight loads as the cement core full-height floor panel varieties.
Standard raised floor panels rest on steel pedestal supports which can either be pre-set or adjusted to the desired height. These can also include swivel head pedestals to allow for ramping on uneven floor surfaces, and seismic pedestals with thicker bases to comply with stricter building codes in earthquake-prone areas.
Raised Access Floor Panel Finishes

Floor panels area available in many types of finishes. The most popular choices include:
Linoleum
Lightweight and environmentally friendly panels usually manufactured from recycled materials. These finishes are extremely popular due to their affordability and wide variety of color/finish options
Vinyl
Lightweight and low-cost, vinyl flooring tiles are easy to maintain and can fit seamlessly into most interior designs
High Pressure Laminates (HPL)
While expensive, HPL flooring is designed to to resist and disperse electricity in data centers or facilities that house a large number of electrical devices HPL tiles are manufactured from a resin applied in a multi-layering process.
Decorative finishes
Floor tiles can be manufactured with virtually any decorative finish to match a decor. These include everything from laminated wood finishes to rubber, cork, carpet, porcelain, or other materials.
Custom Floor Panels
One of the main benefits of a raised access floor system is the ability to incorporate custom floor panels to interface directly with building services.
These can include floor panels with built-in air diffusers and grilles for underfloor air distribution, or modular Plug and Play power terminal units to and airflow panels to facilitate power and data management.
Raised Access Floor AdvanTages
The plenum created by a raised floor replaces the need to run building services over a suspended ceiling, and instead routes them under the floor. Once the plenum is sealed, it can either be pressurized for an HVAC air delivery system, or unpressurized for wiring and cabling.
This setup offers facility operators and owners a number of advantages, especially when used in conjunction with UFAD.

1. Lower Construction Costs
Raised access flooring can reduce both building construction costs and ongoing operational costs.
Routing building services through an underfloor plenum offers fewer obstacles for ductwork and cabling to navigate, in turn reducing the amount of these materials needed.
As well, the reduction of these materials translates to reduced floor-to-ceiling and overall building height of up to ten percent. This means that a building using a raised access floor system to route services would have a larger usable interior space than a building of equal height using a traditional overhead arrangement.
Finally, easier access to wiring and HVAC means installation technicians don't have to work with ladders or other suspension equipment, speeding up the process and resulting in cost savings from reduced labor time.
2. Lower Lifecycle Costs
Raised access floors also have a positive impact on ongoing operational costs.
When used in conjunction with Under Floor Air Distribution, occupants and building owners can see a 30% savings in energy costs
Easier access to building services, modular layout flexibility, and lower overhead costs improves tenant retention and lowers churn
Provides opportunities for LEED and WELL certification for improved property values and occupant health
Underfloor air distribution's introduction of naturally-rising, conditioned air at floor level means only the first six feet of the occupied space need to be conditioned – saving the energy costs associated with having to heat the entire space
3. Improved Occupant Health and Comfort
UFAD delivers improved ventilation, air quality, and thermal comfort to occupants.
Naturally-rising airflow lifts suspended particles up and away from occupants where it can be safely captured and filtered. This results in a significantly higher indoor air quality versus overhead air delivery
UFAD offers finite temperature control capability, improving the individual thermal comfort levels of occupants
A variety of variable air volume (VAV) and and constant volume (CV) diffusers let you configure your airflow for maximum ventilation
ASHRAE has formally recognized the superior ventilation effectiveness of Underfloor Air Distribution. Since 2010, ASHRAE 62.1 requires 20% more outside air for "overhead" air systems to achieve the same ventilation rate of a UFAD system. As a result, UFAD systems save 20% of outside air costs for the life of the building. This also means 20% less first cost for outside air preconditioning units.
4. Power and Data Management Flexibility
Raised access floors offer unmatched flexibility when it comes to re-configuring and managing electrical wiring and data cables. Wires/cables are easy to access, and can be connected point-to-point much faster when routed through the plenum.
Being able to use more direct wiring reduces the amount of wiring required, reducing costs and allowing for an improved installation time for electrical devices.
Finally, modular Plug and Play floor tile terminals improve scalability when you need to expand your operations. Adding voice, data, and electrical communications capability as needed is simply a matter of swapping out an existing floor panel with a powered connection terminal.
5. Sustainable/Green Building Certification
Raised access floors can be a significant contributing factor towards obtaining green building certification. Both the Leadership in Energy and Environmental Design (LEED) and the International Well Building Institute (WELL) have developed standards for building design, construction, and occupant health that ensure certified buildings operate sustainably.
Having a LEED or WELL certification brings the following advantages:
Ensures your building uses less energy, water, and resources
Occupants are healthier, happier, and more productive
LEED and WELL certification is an important value added proposition for marketing
Green building certification also attracts and helps to retain tenants
LEED certified buildings are significantly better financial assets with higher ROI
SPECIALIZED RAISED ACCESS
FLOOR INDUSTRIAL APPLICATIONS
Each industry sector faces different challenges when it comes to facilities management, and raised access floors can offer tailored and customized solutions to those issues.
Some facilities – especially large event spaces that can hold thousands of people, rely on UFAD systems to provide large-scale energy savings and superior air quality, while others need the kind of layout and wiring management capabilities that raised access floors deliver.
Casinos
The goal of any casino is to keep patrons on the premises for as long as possible. To that end, casino operators give a significant amount of thought trying to make guests as comfortable as possible while presenting them with a floor layout that encourages them to keep playing.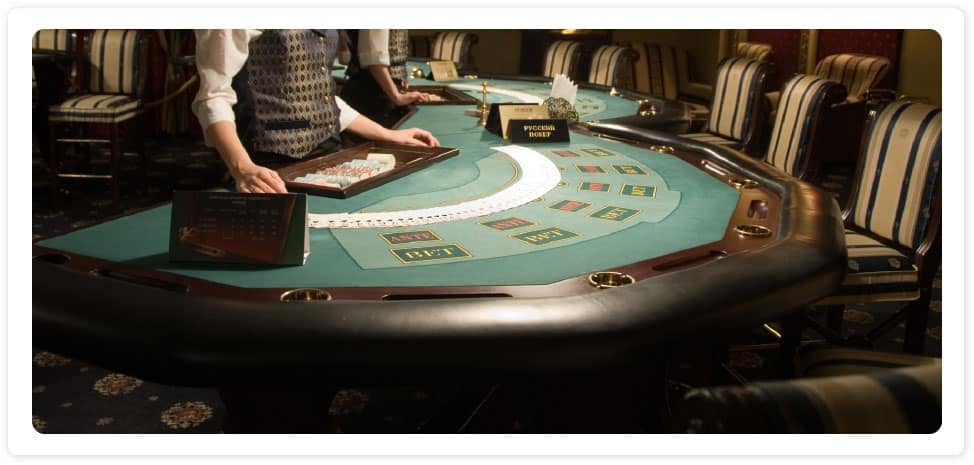 As one of many casinos has discovered, installing a raised access floor system allowed them to tackle both challenges. Since casinos are among the few types of facilities that still permit smoking indoors, they need to pay close attention to guests' comfort by providing the highest air quality possible.
In this case, UFAD turned out to be the ideal solution, taking advantage of its natural ability to move smoke and other particles upwards and away from the immediate zone of occupants.
As well, the modular nature of their raised access flooring made reconfiguring their gaming areas much easier, since power and communications terminals could be moved to wherever the machines needed to go.
Conclusion
As building and facility owners strive to ensure that their investments remain both profitable and sustainable for the long-term, more and more are discovering that installing a raised access floor system can open the door to a wide variety of cost, time, and energy savings.
From being able to take advantage of improved air quality and thermal comfort with underfloor air distribution, to the layout and design flexibility of modular floor panels, to having a significantly easier way to access cabling and wiring – the adoption of raised access floors will continue its upward trend for the foreseeable future.
AirFixture is a recognized industry leader providing innovative underfloor air distribution products and solutions for office buildings, casinos, event spaces, and government facilities around the world. Contact us today to speak to a UFAD expert and learn how this revolutionary system can deliver unrivaled air quality and significant energy and operational cost savings to your facility.
Contact Our UFAD Experts!
Fill out the form today to get more information on how UFAD will help you reduce energy costs and improve air quality.